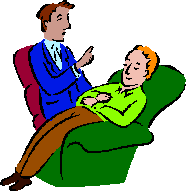 Here's a great story I heard to brighten up your day…
– A client walked into a hypnotherapists' office looking down and upset. The hypnotherapist asked him what was wrong to which the client explained: "I just can't seem to attract woman. Whenever I approach them they immediately turn away from me or shut me down before I can speak."
"That's not a problem," stated the hypnotherapist. "I'll simply give you some strong suggestions in hypnosis for self-confidence and afterwards I'll give you some affirmations that I'd like you to repeat to yourself daily at home. It's important when repeating the affirmations that you believe them."
Upon conclusion of the session and receiving the affirmations to use at home the client left the office with a sense of hope and even a slight look of contentment on his face.
About a week later the hypnotherapist ran into the client while running errands downtown. The client appeared to be upset as they greeted each other. The hypnotherapist asked, "Didn't the session and affirmations I gave you work?" "Oh yes they worked wonderfully." said the client, "Women have been swarming around me wherever I go."
"Then what seems to be the problem?" asked the hypnotherapist.
"Oh there's nothing wrong with me…" said the client. "The problem now is with my wife!" –
Have a wonderful day…
Rene