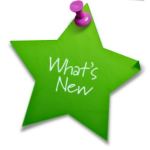 Happy Friday! Or at least it was when I wrote this Blog!
By Rene A. Bastarache, CI
Earlier in the week we told you about a couple of new things we've been working on but there's so much more happening. We just didn't want to overwhelm you with all that's going on at once. If we did then we'd have to hypnotize you to relax and breathe!
So in order to give you a bit more to absorb I'm going to make it simple and refer you to our WHAT'S NEW Page (Oh that's New too by the way) It features In House Specials, Freebies, Upcoming Events, Programs and Fun Stuff. You can see it at: http://americanschoolofhypnosis.com/
Pay special attention to our latest renovation the Comedy Hypnosis Certification especially if you like to have fun and want to get paid a ridiculous amount for it. he he
We have lots more coming right around the bend that we're keeping quiet for now but like I said piece by piece is the best way to absorb so for now check out the What's New page and we'll keep building new things for you to succeed on this end.
Have a great weekend,
Rene & Raluca
P.S. You can check out all of our New Courses and price reductions directly at: http://www.choosehypnosis.com/aia_approved_training_courses.htm