Welcome
.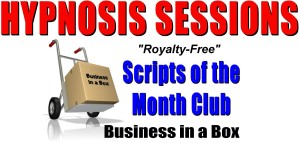 Your first months Session of Scripts and Instructions are included below:
.
IMPORTANT: To complete your process be sure to go to your email to confirm your subscription which will ensure all your future monthly sessions are delivered to you successfully!
You First Session of Scripts:
A Confident, Non-Smoking You
We've also included an outline on:
How to Begin Creating MP3s and CDs
It includes:
How to record your own audio MP3s or CDs in 200 words or less…

Computer programs you can use top record and edit them. (most are free)

Paces to market them… If you can't sell them they're just dusty catchers!

Advertising ideas?

Three Affiliate Locations where others can find your products and sell them for you.

The WORDING to record "client instructions" before each session starts.

Disclaimers to place on your packages or sales page.