The Self-Image Home Study Course

.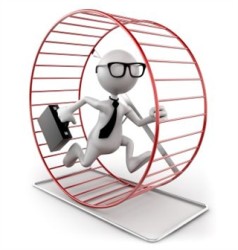 Every morning you wake up to a new day of unlimited possibilities but end up doing the same things that you did yesterday and the day before. It's as if you're too busy living your life to change your life.

.
"In order to create change, there needs to be a change!"
..
Are you ready to change your mind?
Progress not only comes through willpower and hard work, it oftentimes requires a desire and willingness to change.

No matter where you are in life right now this course has the tools and methods to help you create the results you want. You'll learn: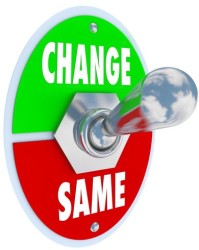 How your mind works so you can use it's traits to your advantage.

How to create goals and surefire steps to achieve them.

How to push pass your limiting beliefs and develop new ones.

How to identify what you really, really want and immediately begin attracting it.

How you built your present self-image and how to change it so that the person you perceive yourself to be and the person you want to be are one and the same.
Changing your thoughts WILL change your focus and ultimately change your life.
What's your desire to change or to improve? Is it a resounding YES or just a whim?
..
Here's What's Inside!
⇒..Three Life Changing Mind Training Videos by Rene Bastarache, CI

I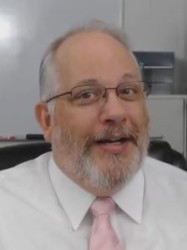 n these video lessons I'll share with you the most important features of the mind and how they can be used to control your destiny. You'll learn:
How you became conditioned the way you are today.

A NEW thought process that will begin immediate changes in your life.

To control your self-talk and focus on what you want rather than what you don't.

How to create attainable goals and a secret controlling method to always attain them.
⇒..Seventeen Do-It-Yourself Exercises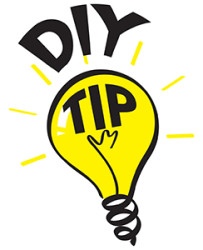 Here you'll find right to the point videos with practical exercises you can use to jump-start "immediate" change in your attitude, happiness, health and even your wealth.
Simply browse through the list of topics covering self-image, health wealth and happiness and choose an exercise that resonates with you.
These D.I.Y. exercises alone are worth much more than your course purchase price and are a benefit you'll want to return to time and time again…
⇒..Affirmations to Incantations by Raluca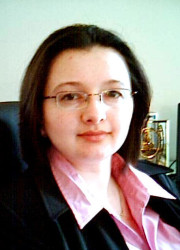 In addition to being a Life Coach, Raluca is the Director of one of the largest hypnosis training facilities in the world. She understands that the power of affirmations are not simply within the words but within "you".
In addition to each life changing affirmation she'll show you how to use them so they're meaningful, believable and emotional which is the KEY to effectiveness. Just as with magical incantations or spells, to be effective they must include the proper set of words, focus and mindset.
They can be used with the Affirmation Cruncher (below) or with one of the many methods included in our manual.
⇒..Affirmation Cruncher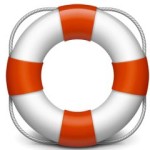 Affirmations are a wonderful tool to create instant and permanent change if used correctly. Affirmation Crunchers are proven Conditioning Do-It-Yourself-Help Scripts where you would simply insert your desired affirmations so they can be easily accepted by your subconscious mind where all positive changes and habits are made. Consider it your own personal conditioning device.
In addition to the three Crunching Tools to begin your conditioning process you'll also receive instruction on several methods to use these same affirmations as a Maintenance Program to strengthen and assist in your transformation process.
.
⇒..Three Guided Meditations Audio Sessions – (The Ultimate Conditioning Tool)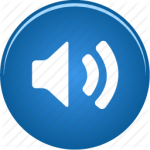 Close your eyes, sit back, relax and click PLAY to be guided through any one of three Self-Help Guided Meditation Sessions. A great way to relax and allow yourself to begin powerful conditioning for positive change. The sessions are "Wealth and Prosperity, Healing and Stress Reduction", created and narrated by Raluca.

.
Need More Reasons to Join?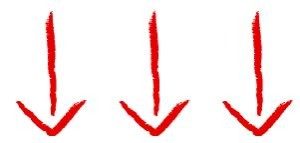 BONUS #1
450 Page Hypnosis Self-Help Manual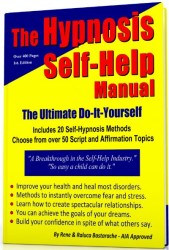 You'll receive an online copy of our Latest Best Seller and Crowning Achievement! If you've ever wished there were a step-by-step instructional manual on how the human mind works and how to condition it for your benefit; this is it!
This course manual includes information, exercises, multiple conditioning tools and methods to improve your health, self-image, wealth, relationships, confidence and even overcome fear and stress.

.
BONUS #2
30 Minute Coaching Session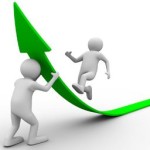 Need guidance along the way? You'll have the opportunity of a 30 minute coaching session with Rene or Raluca to help you on your way to success. We can help you to organize your goals into actionable steps, work with you on creating the proper mindset or simply use us as a sounding board for a goal you're presently working on. With this benefit you're not alone. We're here to help you!

.
Ready to Buy it Yet?
"WAIT"… There's More!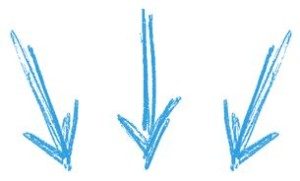 One More Reasons to Get Started TODAY!
.
Our 30 Day "Risk Free" Membership: You'll have a full 30 days to enjoy the Self-Image Crash Course to see if it's for you. If for any reason it isn't then we'll give you a full refund and you can still keep the 450 page Hypnosis, Self-Help Manual as our thank you for giving us a try.
This is a completely "Risk-Free" trial so Join Us Now!
.
Yes, I want to get my Crash Course Now!
.
An Unbelievable Opportunity

…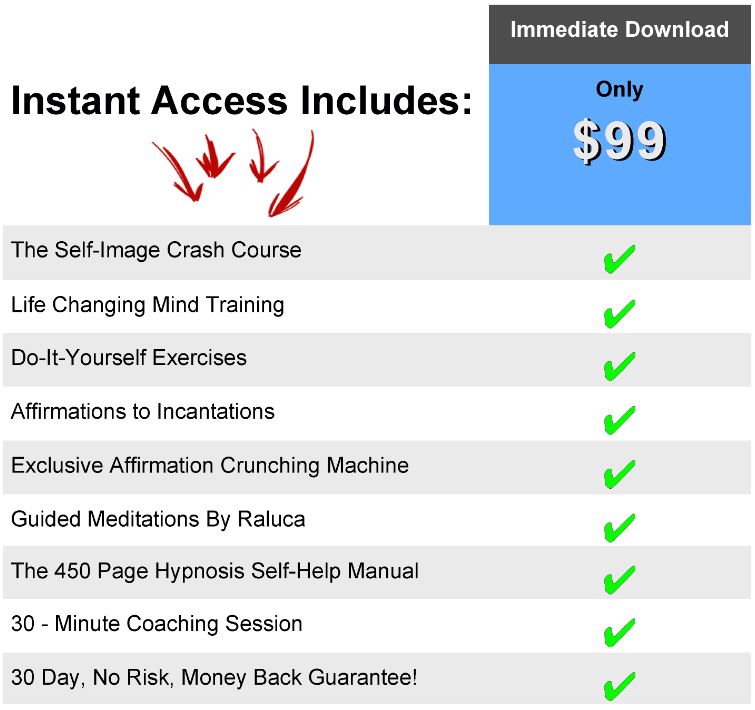 .
Start Your Success Story Today!

INTRODUCTORY OFFER 
ONLY $99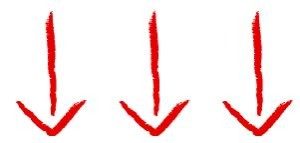 .Format: Online videos, mp3 audios and print in pdf.
Upon successful payment you will immediately be directed to our Course Page where you can begin. If you have not been forwarded for any reason, please notify us.
__________________________________________________________________________
Upon successful payment you'll immediately be directed to our Thank You Page where you can begin browsing your benefits. There are no special requirements to viewing your training as long as you have an internet capable device that can view YouTube videos, MP3s and pdf downloads. If you have questions prior to purchase you may contact us here.

Notice: The Author(s) that created these sessions are not medical or mental health professionals. At no time do they attempt to provide medical or mental health therapy. You affirm that these Guided Meditation Sessions or affirmations are appropriate for you and do not conflict with existing medical or psychiatric treatment. Always inform and follow the advice of your physician or other professional medical practitioners before listening to a session for health.
Methods Used: The Author employs Guided Imagery techniques to facilitate the client's quest for self-improvement. Specific additional techniques may include: Body Relaxation, Directed Meditation, Age Regression, Hypnosis and our copy written Total Habit Replacement System.
.