Equipment I Use to Get
High Quality Videos and Audios
.
2017 Best Recording Equipment and Program Review
By Rene Bastarache, CI
.
We've been having so many graduates and others asking what Equipment and Programs we use to record all our videos, audios, mp3s and courses that I finally decided to make a short Free Training Video to share the information with you.
If you have any questions just let us know and if there's something you'd like to see us expand on or possibly make another video on be sure to email us with your request…
.
Here's the Equipment that I Personally Use:
.


My Video Recorder:
I use the Logitech Cam Webcam Pro C910 – Approximate Price 2017 – $179
The picture from this camera is spectacular. The program it comes with allows me to adjust just about anything I need…
It does have stereo sound but I prefer the sound of using a separate mic.
Click on the link below to learn more about it or to get one for yourself.
My Microphone:
Audio: I use the "Blue" Yeti USB Microphone. Approximate price – $129?
It does comes with a desk stand however I use a separate tripod and boom.
This Mic is absolutely AWESOME! "There's an unsolicited testimonial". I love it!
It's one of the least expensive "professional" mics on the market.
Click on the link below to learn more about it or to get one for yourself.
Blue Yeti USB Microphone – Silver
.
.


.
Here's the Mic Stand and Boom I use:
DR Pro Tripod and Boom
I prefer using the boom and stand rather that the desk mount as it gives me less things to worry about on my desk getting in the way.  No matter how big a desk I get I still never seem to have enough room. It also gives you plenty of flexibility in case you have a different recording venue such as interviews.
Click on the picture or link below to learn more about it or to get one for yourself.
DR Pro DR259 MS1500BK Low Profile Mic Boom Stand
.
My Pop Filter:
As you can see in the video this can also be called a Phhhfffttt Guard. (hehe) Or a: Microphone Pop Filter / Wind Guard
It doesn't really matter which one you get as they just about all work as well.  This one is under 10 bucks and connects to the boom of the tripod easily.
Click on the picture or link below to learn more about it or to get one for yourself.
InnoGear Microphone Pop filter Mic Pop Shield with Clip Stabilizing Arm for Recording Vocals Home Studio Broadcasting
.Here's my Lighting System:
The "Square" perfect umbrella lighting set of 3 with bulbs – about $59.95 on Amazon.
Even if it's a sunny day outside I still use these lights. It may start out sunny but it never fails that those pesky clouds turn up right in the middle of your shoot.  Now you went from bright to gloomy in 5 minutes flat.
The lights keep even light and shadow all the time.  In fact I even close the shades until I'm done.
Square Perfect 2804 Professional Quality Photo Studio Continuous Lighting Umbrella Photography Stand Light
.


Here's the Programs I Use:
I record most videos with the Logitech Pro Webcam C910 program shown above. It's easy to use, I can start it with only one mouse click and it has everything I need right at my fingertips.



.
Here's what I "always" use to EDIT my Videos.
Camtasia is an easy to use program LOADED with tons of options and features that will make you feel like you're creating a Spielberg creation. It sells for about: $199
Although I record separately; it does have the option to record directly to the program and even record your computer screen. There's so many features that they even offer an online library of training videos to help guide you the the maze of effects.
Click on the link below to learn more about it or to get get started editing like a pro:
Camtasia 9 [Online Code]

.
I use Audacity or create all my "Audios and MP3s":
You can use Audacity to record audios or to make podcasts.  One of the best features of it is that it's – FREE.  This is so rare to find a free program that works so professionally without commercials, popups or other annoying advertisements all over it.  It's just a great program that you'll love to use. I can pop in a video, strip out the sound and make an mp3 out of it in a matter of minutes. Click on the link to download it now.
https://sourceforge.net/projects/audacity/
.
Here's my Recording Studio:
OBS Studio – Open Broadcaster Software – When live studio, split screen or desktop recording is required you can do it all here – plus much more – FREE
You'll have so much fun playing around with all the options of this one. It's a little tricky to understand all the settings to get set-up but if you do a search of YouTube training videos there's plenty of folks that can guide you through it. Enjoy! You can click on the link to get it for yourself free.
My Storage Closet in the Clouds:
This is where I store most of my large files, videos, audios and and even store the back-ups of my computer there in case my computer crashes I'll still h ave copies of all the important things safe.
Did I mention you get about 500 MB of storage FREE?  I use plenty more than that now but the cost is very minimal. This is a great way to free up space on your computer especially if all your videos and larger files are bogging it down.
You can sign-up by clicking on the link below and registering.
.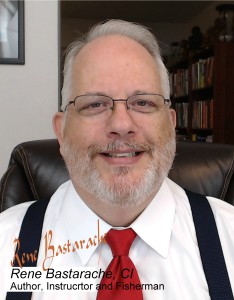 I hope you enjoyed the video and that some of the items above can help you to bring your recordings to the next level.
I wish you the very best of success in all your endeavors.
Sincerely,
Rene Bastarache, CI Author
Instructor and Fisherman