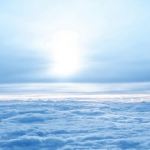 The purpose of this script is to help people deal with situations or problems that seem to grow out of hand. Happiness doesn't come from not having problems it comes from being able to rise above them so you don't allow them to control you. If you can become bigger than any of the challenges you're faced with each day you'll find it much easier to remain focused without distractions on what's truly important.
This process can be used as a script in a hypnosis session or simply by having someone close their eyes and listening to it. Since it is based on using their imagination, being in hypnosis or the depth of relaxation doesn't matter. It changes the way you look at things or the perception you have of them. This is also known as NLP re-coding.
Rising Above It All
By Rene Bastarache, CI
Imagine that you're standing outside on a comfortable summer's day in a large open field. Imagine that the sky is overcast with clouds but there is no rain in sight.
Take a moment to think of a situation or problem with other people that you may have been having difficulty with. It may be a disagreement with a friend, relative or business associate or maybe something from work or home. Think about what it is you'd like to work on. Be sure to only choose one situation to go through this process with before you move onto another.
Imagine the situation unfolding in front of you right now as if the person or people you're having difficulty with are right in front of you. As the scenario begins imagine the people around you or situation beginning to shrink. Imagine them shrinking and shrinking until they are about 3 inches tall… And as their shrinking you can even hear their voice seeming to get higher and higher in pitch … Sounding as if they had just inhaled helium.
As they continuing complaining to you realize how insignificant and even silly they sound… As you're standing there looking down at them you realize that they look similar to animated cartoon characters. They're very tiny hopping up and down whirling their arms in the air … Yelling in a very high-pitched squeaky voice…
Your attention turns away from this tiny character now as you imagine yourself growing taller… You seem to be growing so quickly that your head begins to enter the clouds … You've gotten so tall that you've pulled through the clouds with your head and shoulders emerging above them… As you now look down you notice the tops of the clouds stretching out as far as you can see … They look like a blanket of white cotton… the sky above is blue, it's sunny and very comfortable.
You feel wonderful … You feel as if you're above it all … You now realize that you are bigger than any negative problem, situation or challenge that faces you… You can now see any challenge for exactly what it is… And realize that any challenge has a solution… And you now realize that the solutions come easily to you…
You are now in control… Happy… And truly above it all.