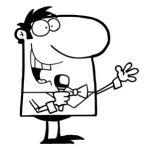 The Past Life Reporter
By Douglas Allitt, CHP
In a short while we'll begin a most wonderful journey into your past … At all times you'll be completely safe, secure and protected… From this moment forward you'll view everything you see in the third person … You'll be an impartial observer whose only job is to report back on what you observe … A past life reporter…
A very experienced and professional reporter who remembers everything that he (she) sees … Like all good reporters, at no time will you become emotionally involved in anything that you see, hear or feel… Your job is just to report the facts without becoming emotionally involved in any way …
I'd like you now to imagine a stairway leading down to a beautiful blue door… Your past life assignment awaits beyond the blue door… There are 20 steps, and as you complete the counting down of each step you will find yourself relaxing 10 times deeper than the step before… The only sound that you will hear and respond to is the sound of my voice… Any other sound that you may hear will only take you into an even deeper sleep. Take a beautiful deep breath now … in … now out.
Begin your journey down now and take step number 20. Now 19 … feeling so calm and relaxed … 18, 17, 16 …deeper and ever so deeper … 15, 14, … so wonderfully calm and relaxed … 13, 12, 11 … safe and secure … 10, 9, 8 … the confident, calm and professional reporter … 7, 6, 5 … so deeply asleep … 4, 3, 2 … and … one …
Before you is the beautiful blue door… This is the Door of Remembrance… It's a special, magical door that allows you to retain all memories of everything you see or hear within the room you are about to enter… This is a special viewing room that automatically provides divine protection at all times… You push the door open and enter… Imagine now that you take a seat in front of a large screen… The large screen is programmed to show any event or time in your past life that you wish to see… It is at your command …
So safe, so secure, comfortable and relaxed… You will feel no emotion, only view, remember and report…
I'd like you now to think of a time in your teens that comes to your mind… That's right, the first thing or event that comes to mind… Good… Watch it now as it plays out on the screen… What do you see … Are there other people involved? … Can you remember them … their names … their relationship to you?… Colors? … Smells? … Why is this event important to you? …
Relaxing deeper and ever so deeper now as we move back in time to somewhere before the age of ten… This is your early childhood… Again pick the first time or event that pops into your mind … that's right … and as it now plays out before you on the screen take note of what you see… Doing so very well… Can you see why this event is so important to you? … Names and places?… Take your time…You're so very, very, calm and relaxed… So perfectly safe and secure… Look all around you… Who can you see? … What are they doing? … What can you see? … What are your thoughts? …
Safe, comfortable, secure and relaxed… So deeply asleep now… Just a reporter… No emotion… Detached… With every breath you take and every word I say you go deeper and deeper down… Let's move back in time now to a time just immediately before your birth… You are safely inside the warmth of your mother's womb… You now become aware that it is time to leave… See this now on the screen before you as you are now born …What do you see? … Who do you see? … Are the lights bright or dim? … do any of your baby thoughts come to mind? … What can you hear? …
Moving now to a special time of your choice… Is there anything you would like to leave here in the past? … Perhaps a problem or a bad choice you have recently made… If there is, just imagine yourself holding this incident in your hands… It is wrapped with thick brown paper and tied with strong string… You see a garbage bin and move over to it and let your parcel drop from your fingers into the garbage never to trouble you again… It is now in the past and gone forever…
While we are here, is there anyone from your past you would like to forgive? … If so, see on the screen before you that exact time, place and person… Imagine yourself, on the screen, now walking up to them and saying in a strong but kind, loving voice … "I forgive you"… See them smile their acceptance and see the relief on their face … and also on yours … and so it is done…
Your assignment is coming to a close…
Just allowing yourself to detach now as the screen fades to grey and it is now time to pass through the Door of Remembrance once more and return…
Remembering everything with ease… Just relaxed and calm…
In a moment I will count to 5 …
(Awakening)
---
Legal & Disclaimer: This script being displayed is for personal use and for use with your clients only. Other than use for your personal sessions it is not to be copied, printed, re-distributed or posted in any other locations online or offline. It is the property of the American School of Hypnosis. Each script is an original work donated to us or created by students, graduates or faculty of the ASH. Be sure to read your script completely before using as we will not be held accountable for any misspellings, inaccuracies, slurs, harm or inconvenience occurring form the use of said work.  Feel free to link to our site and share the url with your friends and colleagues.