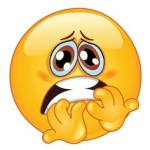 Nail Biting II
By Rene A. Bastarache, CI
This is a free script for conducting hypnosis sessions
You want your nails to look healthy and strong… You now realize that nail biting is just one of many ways that people deal with stress… it's a thing of the past for you because you now have a new way of dealing with stress that works great…
So from now on… whenever you have stress, you'll deal with it in a different way… All you need to do is simply take a deep breath and as you exhale… say to yourself quietly … relax now … When you do this, you'll find all the stress immediately fading away…
Nail biting is part of the past and you don't do it anymore. Instead you're replacing it with taking a deep breath and saying … relax now … it is that simple.
Take a moment to imagine right now, that you're placing your hands up with your fingers extended outwards right in front of you, and now imagine your fingertips and your nails looking healthy and exactly like you would like them to look, imagine them clearly in your mind.
You have beautiful hands… your nails are extending to a length you like, neatly manicured. Imagine your nails covered in your favorite color nail polish. See how beautiful they look. You can smell the freshly dried enamel. Take a moment to mentally decorate them with some nail art if you wish.
You're so pleased with your success and control and thus gain a great deal of personal satisfaction from this accomplishment.
---
Legal & Disclaimer: This script being displayed is for personal use and for use with your clients only. Other than use for your personal sessions it is not to be copied, printed, re-distributed or posted in any other locations online or offline. It is the property of the American School of Hypnosis. Each script is an original work donated to us or created by students, graduates or faculty of the ASH. Be sure to read your script completely before using as we will not be held accountable for any misspellings, inaccuracies, slurs, harm or inconvenience occurring form the use of said work. Feel free to link to our site and share the url with your friends and colleagues
Tags:
ameircan school of hypnsois
,
american school of hypnosis
,
anxeity
,
biting your nails
,
choosehypnosis
,
dealing with stress
,
fingernail biting
,
free hypnosis script
,
free hypnosis training
,
http://www.choosehypnosis.com
,
hypnosis
,
hypnotherapy education
,
learn hypnosis
,
Nail biting
,
Rene Bastarache
,
stop biting nails
,
stress nail biting
,
www.aiahypnosis.com