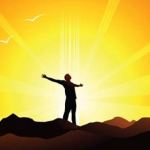 The Feel Good Hypnosis Script
By Rene A. Bastarache, CI
The purpose of this session is to help you to feel good… and it is important to realize that in order to feel good… what you must do is to first imagine yourself feeling good.
I'd like you to use your imagination right now and imagine yourself as if you were standing right in front of you on a movie screen…
Imagine yourself clearly… Imagine yourself feeling really good… see as many details as you can about yourself… What are you doing…? Where are you…? What are you wearing…? What do you look like as you are feeling this good…? Describe your facial features… are you smiling…? Are you really happy…? How about your posture… are you sitting or standing upright…? Energetic…? What does it look like for you to feel really good…? See yourself as clearly as you can… standing in front of you on the movie screen…
Now I'd like you to imagine yourself… the real you and the imagined you that's feeling really good on the movie screen… merging together… Imagine that you're merging into one person… and imagine that your wonderful feelings are merging with you as well… now that you've become one allow yourself to feel completely good… better than you have before…
You're feeling so good… so healthy… so happy… and even vibrant… You feel wonderful in every way… and you now understand the key to remaining this way… Whenever you want to feel good or better simply close your eyes… and imagine yourself on a movie screen in front of you… feeling the exact way that you want to feel… Once you can imagine yourself on the movie screen feeling good… then simply imagine the two you's merging together along with all the good feelings…
The reason this works so effectively… is that your strong subconscious mind does not understand the difference between real or imagined feelings… They hold the same value… therefore if you can imagine yourself feeling happy you will be happy… or when you imagine yourself feeling good you feel good.
Take a few moments now and imagine yourself feeling good for just a little longer… Imagine yourself feeling so much better than before… Allow yourself to enjoy feeling good… you deserve to feel good… so just allow yourself to be happy and feel good…
---
Legal & Disclaimer: This script being displayed is for personal use and for use with your clients only. Other than use for your personal sessions it is not to be copied, printed, re-distributed or posted in any other locations online or offline. It is the property of the American School of Hypnosis. Each script is an original work donated to us or created by students, graduates or faculty of the ASH. Be sure to read your script completely before using as we will not be held accountable for any misspellings, inaccuracies, slurs, harm or inconvenience occurring form the use of said work.  Feel free to link to our site and share the url with your friends and colleagues.