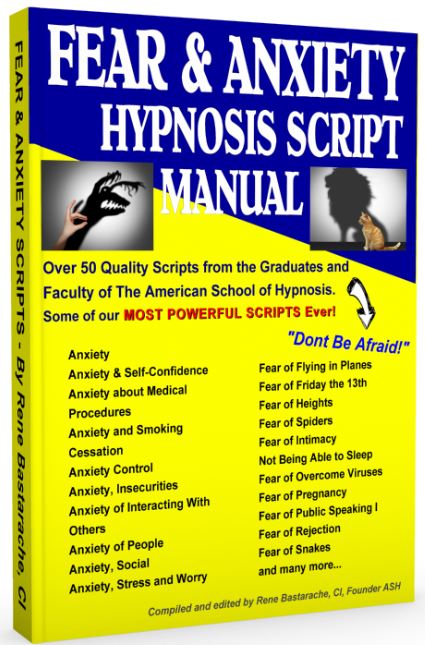 FEAR & ANXIETY
Hypnosis Script Manual
All of our Best Fear & Anxiety Scripts in ONE Place
This manual contains a combination over 50 of Our Best Fear and Anxiety Scripts from all of our Hypnosis Manuals that have been created by Hypnosis Graduates and Rene Bastarache, CI of the American School of Hypnosis.
Now you have one manual with many choices at your fingertips to help you and your clients rise above fear and live a fulfilling life.

This is the same manual that is used in our Fear & Anxiety Hypnosis Certification Course.
.
See What's Inside…
Anxiety
Anxiety & Self-Confidence
Anxiety about Medical Procedures
Anxiety and Smoking Cessation
Anxiety Control
Anxiety, Insecurities
Anxiety of Interacting With Others
Anxiety of People
Anxiety of Spending Too Much While Shopping
Anxiety, Social
Anxiety, Stress and Worry Release
Computer Anxiety
Driving Anxiety
Driving Exam Success
Eating Disorder
Exam Anxiety
Fear of Bees and Wasps
Fear of Being Alone
Fear of Cats
Fear of Commitment
Fear of Confrontation
Fear of Criticism
Fear of Dentist
Fear of Dentist / Doctors
Fear of Failure
Fear of Flying
Fear of Flying in Planes
Fear of Friday the 13th.
Fear of Heights
Fear of Interviews for Women
Fear of Intimacy
Fear of Not Being Able to Sleep
Fear of Others Vomiting
Fear of Overcome Viruses
Fear of Pregnancy
Fear of Public Speaking I
Fear of Public Speaking II
Fear of Public Speaking III
Fear of Rejection
Fear of Roller-coaster Rides
Fear of Snakes
Fear of Solitude
Fear of Spiders
Fear of Success I
Fear of Success II
Fear of Success, Overcoming
Fear of Turbulence in Planes
Fear of Water
Free of Anxiety
Performance Fear
Pre-Game Nerves
50+ Fear & Anxiety Scripts for Only: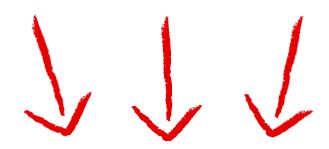 ONLY: $75.00
.
.
---
*** Your pdf. download manual will be delivered directly to your email immediately after ordering.  If you do not see it please check your spam or bulk folder before contacting us.