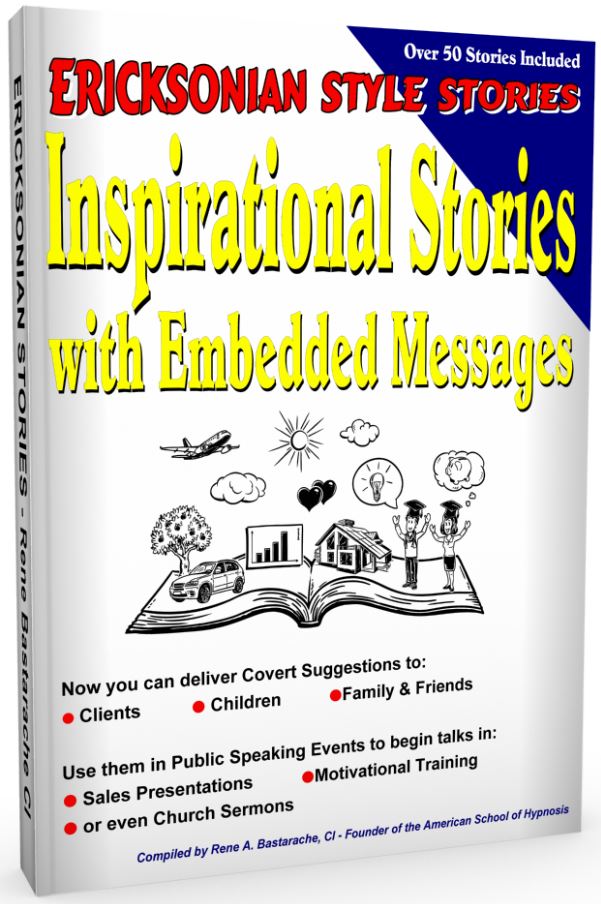 INSPIRATIONAL STORIES
with
Embedded Messages
Ericksonian Style Hypnotic Stories are about giving people suggestions indirectly through powerful stories.
Even though the classic hypnosis relaxation sessions work very well with most people, Ericksonian type stories will be accepted by even the most "tough nut" clients.
It would be considered an "analytical approach" due to the covert method that the suggestions are being delivered.
It's sort of like the storytelling as Milton Erickson suggested.  You tell a story and you've hypnotized someone.
.
But How?
While the subject is listening to the story the suggestion (which is the moral of the story) is implanted in their subconscious mind.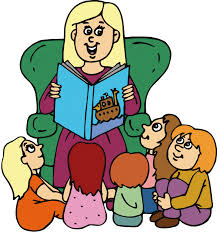 This is the reason we created this book – This is a book of stories.  Many of them you've probably heard before. This is a way you can have many of them all in one place all at your fingertips to use as you wish. Check our the videos below to hear a few of them so you know what they're like…
Every story has a "moral" and through repetition the suggestion is implanted in the subconscious. The amazing part is that these stories can be told anytime and you don't need to have anyone in a so called trance. In fact, you don't need to have your eyes closed to be hypnotized this way.
Here's some of the topics the embedded suggestions cover:
The dangers of lying

There's a time to play and time to work

Honesty is the best policy

Empathy for others

Slow and steady wins

Comparing yourself with others

Friendship

Having ethics

Self-satisfaction

Effects of a bad temper

Bad behavior

Persistence pays off

You can't please everyone

Leaving work at work

Your flaws can be your strengths

Creative thinking

Believing in yourself

Practice makes perfect

Success motivation

Dealing with challenges

Dealing with grief

Benefits of being kind

Quick Thinking

Things are not always as they seem

Worrying

Taking responsibility

Everyone has a story

Self-worth

Being content

Unconditional love of parents
This form of storytelling has been used for thousands of years…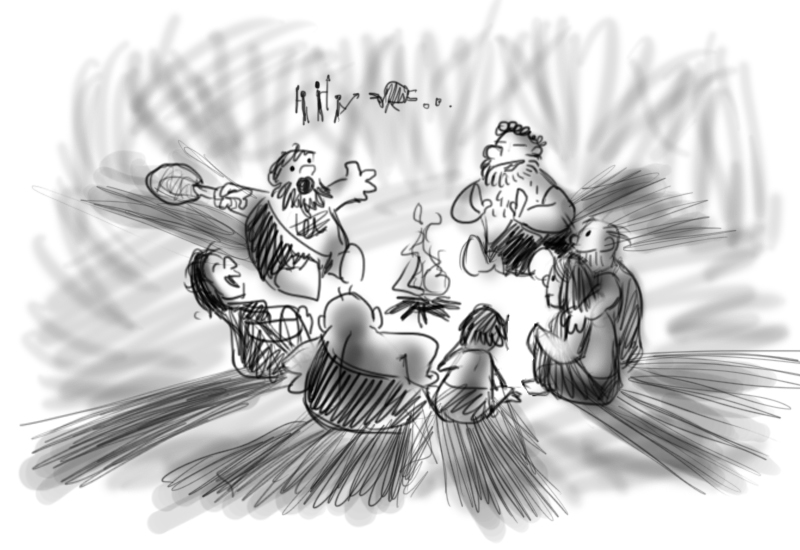 … and is probably one of the oldest forms of recorded hypnosis. It's used extensively in the Bible in the form of parables and in many other inspired books that are even older. Parables are very hypnotic. In fact Ericksonian Hypnosis Stories are used more in church sermons and in sales than anywhere else.

⇐ Dinosaur hunting stories were among the earliest favorites…
.
About This Book

This manual contains over 50 Stories which were designed with built-in positive morals to deliver to people. It's the same method that Milton Erickson used to hypnotize many of his clients. The great thing about it is that when you tell a story people will listen to it openly even if it relates to them and not shut-down as they often do when you directly speak to them about their problems.
You can use these for yourself or to get lessons across to your:
clients

children

family

coworkers

or in public speaking events to start out your talks in

sales or motivational training

or even church sermons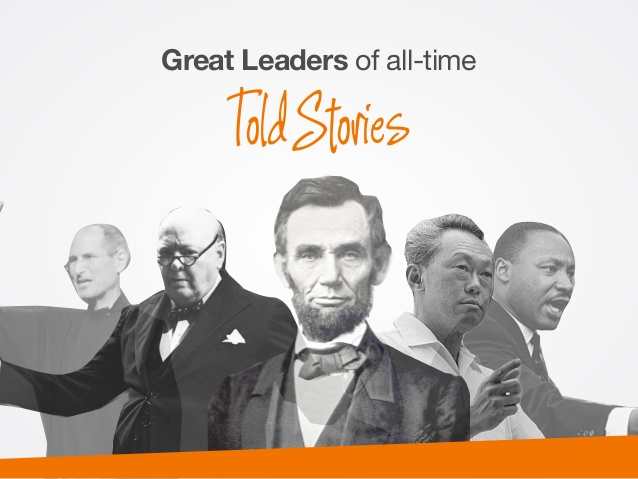 There are so many useful venues for them.
Many of these stories have been around for years and stood the test of time as in the first one in the manual; "The Boy Who Cried Wolf" which was covertly designed to get children to stop lying without pointing the finger at them directly…
Some were written by famous authors such as Aesop's Fables and various religious, motivational and spiritual leaders.
Now you have many of the best ones right at your fingertips to help others with powerful suggestions covertly.
.
Here Are Some Video Examples
… of the stores included in this manual with brief explanations of how they work.
.
Once upon a time… there was a book that was very powerful in delivering strong suggestions. It's now available right here! So, what are you waiting for?
.
Get yours now!
For Only $47.00
.
So Get Yours Now and Start Your new Story
*** Your manual download link will be delivered to your email immediately upon purchase. It is a pdf download that can be opened just by clicking on it.
____________________________
NOTICE: This manual was created in the epub format in pdf. That means that it is immediately downloadable to your computer or any internet capable viewer for use. The pdf format is similar to any Kindle book as there are no page numbers in the manual.  Instead all you do is click on the title of the story you wish to read in the Table of Contents and you are immediately forwarded to the story wherever it is in the book.  The result is a much more efficient process of navigation.
This manual is non-refundable since it is a downloadable product. Once you receive it in your email it cannot be returned and is considered opened. That's why we've included several videos showing you the types of stories included.  If you like the stories you'll love the manual.  If you don't then please do not purchase it. Thank you and enjoy your manual.